Contractor and Supplier Prequalification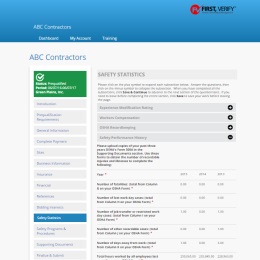 Ensure that your suppliers and contractors meet corporate compliance and record keeping requirements with our online information management tool.
This customized web application provides a single point of access for your employees to quickly retrieve up-to-date data, and apply a rules-based qualification system to verify that selected contractors and suppliers meet or exceed your standards for:
Insurance coverage and limits
Safety metrics (EMR, RIR, DART, etc.)
Citations and fatalities
Safety programs, training and policies
Key documents such as COI, OSHA 300A forms, NCCI Worksheets
Supplier contracts & addenda
Financial Performance
Bonding Limits
Licenses and certifications
Plus any other credentials required by your company
Benefits
Reduced Risk:
An expired certificate of insurance or poor safety record can increase your liability if there are injuries, or worse, on your property. One simple oversight resulting in OSHA citations or negative publicity could cause serious injury to your reputation in the marketplace.
Improved Compliance:
Audits have revealed that companies that try to manage all of this in-house have a compliance rate that is less than 50%. That's a stat that can cost you. Click here to find out how and why.
Customization:
The type of risk introduced by contractors and suppliers is different for every company, so FIRST, VERIFY can be customized to track the information that's most important. YOU define the criteria and we can customize our service to meet your needs. Our user-defined reporting capability allows your employees to sort the data by relevance: Employees in EHS, Purchasing, Operations, Risk Management, Finance, Maintenance and other departments can quickly access the information most important to their immediate need, improving productivity and reducing your administrative costs.
For more information or to schedule a free 30-minute demo, complete the contact form on this page or call (833) 840-2142.